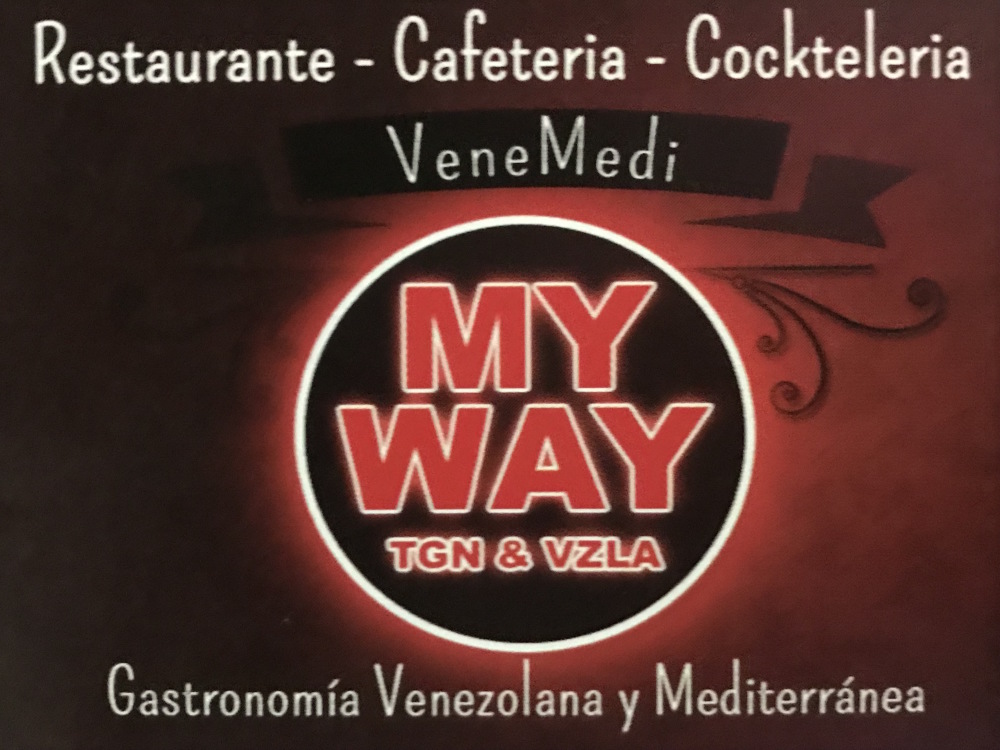 Carta/Menu
Download
Download
La carta de​​ My Way Tgn&Vzla esta compuesta por una fresca , suculenta, laboriosa,  olorosa, y colorida   fusion de de gastronomia "VeneMedi", es decir de combinacion de platos Venezolanos y Mediterraneos preparados en el momento que el cliente lo ordena. Nuestro principal objetivo con esta fusion gastronomica llamada por nosotros "VeneMedi" no es mas  que  deleitar a unos y otros, y porque no? para el deleite aquellos paladares atrevidos que disfrutan las mezclas de sabores colores y olores...

Parte de nuestros deliciosos platos de la carta.pero nada como venir personalmente y saborear el toque especial que le da nuestra especial chef Soraya. Tambien te elaboramos el plato o menu a medida.
A comer a vivir la buena vida a mi manera a la tuya y a la nuestra en nuestro esplenderoso My Way Tgn&Vzla.
Part of our delicious dishes on the menu, but nothing like personally come and enjoy the special touch that gives our special chef Soraya. Also we elaborate  custom menu and dish.
To eat and live the life my way to yours and ours in  our charming My Way Tgn&Vzla

Vinos/Wine
Download

Alguno de nuestra seleccion de vinos, entre los cuales les ofrecemos inigualables vinos de la casa  a precios muy razonable como son los Nuvianas: en tinto, blanco y rossado. Vinos que deleitan y cautivan el paladar de cualquier persona catadora o no de los buenos vinos. Tambien contamos con los espectaculares vinos de denominacion de Origen como :Anima de  Raimat en tinto y blanco; Un tinto Ribera del Duero de Regalia de Ansuero   y un blanco para los paladares delicados  Verdejo rueda de Avenencia.
Part of our selection of wines, among which we offer unique wines from the House at prices very reasonable as they are the Nuvianas: red, white and rossado. Wines which delight and Captivate the palate of anyone taster or not of good wines. We also have spectacular wines of designation of origin as: Raimat in red and white; A Ribera del Duero's Regalia of Ansuero and white for delicate palates a Verdejo rueda of Avenencia

Cocteles/cocktails
Download

Los deliciosos cocteles de la casa con parte de ingrdientes naturales  como la fresa, lima, limon y la menta. En la fotografias el refrescante mojito de fresa, margarita en la rocas, cardinal royal y el  deleitable kir royal. Contamos con 15 cocteles mas y una gran variedad de chupitos.
The delicious House  cocktails  with part of natural ingredients like strawberry, lime, lemon and Mint. In the photographs the refreshing strawberry mojito , margarita on the rocks, cardinal royal and the delectable kir royal. We have 15 cocktails more and a variety of shots